G'day Les,
You will remember me from my time in Townsville during the 1980's as the Accountant Tax-Agent Principal of

I have covered much of that on my publication showing my two Townsville Offices and the CRIMINAL ACTION by Telecom [now Telstra].

Firstly, I want to congratulate you for getting rid of that Mooney prick. He was in the same mould as Reynolds, who now thinks he is god in Queensland. There is just so much corruption in Queensland. It is labor politico-judicial.

I am 'returning' to Townsville in a sense. I have just launched the Global Regions & Localities FORUMS Section of the NEWS & MEDIA FORUMS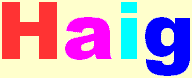 of HaigReport Website ie
. Given my long association with Townsville it is only appropriate that it now has a section for Townsville, North Queensland, Australia. Another of our Bulletin Boards

has a section for James Cook University of North Queensland, Townsville, Australia.

I am pleased to say that our websites [ View list of WEBSITES and Bulletin Boards ] have phenomenal Google Yahoo et al rankings. Hence, you will find our sites including the new TOWNSVILLE FORUMS coming at or near the top of Internet searches. This should increase the EXPONENTIAL rate at which my 'Townsville Forums' grow. It is now just so easy to publish. You and some local residents may remember some of the 4 and 8 page tabloid 'newspapers' I published in Townsville in the 1980's. This publishing just comes so easily now.

These forums will just grow by themselves now. I can do a little prompting from time to time. You just watch now how many people will start to mention this to you. Internet Users around Townsville will bookmark these forums, and will check them regularly. It will just happen. I wonder how long before we relegate the Bulletin to second place in Townsville.


This Internet is the NEW FRONTIER. It is a numbers game; mathematics. Just as well I am a mathematician. The internet is so large and increasing at such a rate that my growth in traffic [and importantly value to me or anyone who controls this part of it] is exponential and does not look at reducing any time soon. As I was born in Townsville, I know Townsville, Magnetic island and Noth Queensland intimately.



Google