include("/home/russellm/public_html/CodingPHP/GlobalPHP_HeaderFunctionOfIP.php"); ?>
Australian CORRUPTION EXPOSED

FRAUD of UNIVERSITY of QUEENSLAND [UQ] Students:

Millions of Dollars [$x,000,000] CLAIMS LIABILITY
from UQ and
The Anglican Church of Australia.

OPEN LETTER [20061207] to Julie BISHOP, Federal Minister for Education.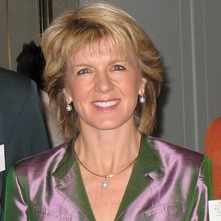 Ms Julie Bishop,
Minister for Education, Science and Training;
Minister Assisting the Prime Minister for Women's Issues.
House of Representatives
Parliament House
Canberra ACT 2600.

Dear Ms Bishop,
The purpose of this OPEN LETTER to you is to direct you and many others who should also be concerned, to my website. The evidence very much relates to your considerations of the Commonwealth funding of The University of Queensland [UQ]: both whether is is justified at all, and if so, the extent of the funding.

I especially refer you to the evidence at: Evidence that no-one can trust The University of Queensland.
On my website, I am publishing details of Corruption in Australia, especially in relation to Tertiary Education and more especially to The University of Queensland [UQ] where I had the misfortune to begin my tertiary studies and was too far into them when I realised how I was continually being bullied, cheated and defrauded. As with much bullying, this has extended to CRIMINAL CONDUCT. I believe my having gained an LLB despite all attempts by UQ to defraud me of that, gives greater credibility to my comments re law and law enforcement.

I shall be continually publishing more on this site. I have such a great volume of evidence of corruption to publish. [I have borne the brunt of much of this corruption and bullying, over more thatn 40 years, because of my disabilities and appearance. Now I am fighting back.]
AS AN ASIDE: TO ASSESS THE VALUE OF MY WEBSITE [WHERE YOU ARE READING THIS]:
It may be of interest to you to conduct a google experiment: Googe the whole world web with the words, [in any order] Australian Corruption exposed , without ""/. Of about one million webites, mine, HAIGREPORT. com is second. Then google "pages from Australia" the two words, corruption exposed /. HAIGREPORT is TOP of the list. This pre-eminence has been gained in less than three months.

Pages/hyperlinks, relevant to you, include:
http://haigreport.com/
Another UQ BULLY [Registrar Porter's Secretary] Instructs Head of UQ Security to ATTACK DISABLED STUDENT.
Brisbane City Council [BCC] Criminals not prosecuted.
CLASS ACTION: Multi-Million dollar FRAUD by The University of Queensland
UQ supports NAZI BULLY bullying DISABLED STUDENT.
CLASS ACTION: Multi-Million dollar FRAUD by Anglican Church
Legal Claim Multi_Million Dollars: Churches for other UQ colleges v. UQ for favouring Anglican Church to tune of $60,000++ pa.
UQ Registrar, Douglas Porter dumps UQ in it: assists Anglican Church defraud UQ Students
Fraud by Qld's RSPCA: [Maybe reconsider any donations?]
St John's College [SJC] is a JOINT VENTURE with The University of Queensland [UQ]
More on the land and formation of St John's College [SJC] on St Lucia Campus [SLC] of UQ.
Are international students unwise to study at Australian Universities?
The University of Queensland: Is it defrauding the Commonwealth of Australia??
Matters with relevance to The University of Queensland [UQ].
Evidence that no-one can trust The University of Queensland.
The Australian government ILLEGALLY CHEATED ME. [on many occasions - this, in 1972, is but one]

Kind regards,
********************************************************************

Due to FRAUD by St John's College [SJC]

on the St Lucia Campus [SLC] of

The University of Queensland [UQ]


There is much CORRUPTION in Australia but the majority of it is concealed. THIS HAS MAJOR CONSEQUENCES FOR AUSTRALIA POLICICALLY ON the WORLD STAGE. Australia attempts to pontificate from the HIGH MORAL GROUND and be the "BULLY OF THE PACIFIC". America [USA – Bush] is attempting to diminish its INTERNATIONAL crimes by seeming to associate with a densizen of the "high moral ground" [Australia], whereas in fact, AUSTRALIA IS RIFE WITH CORRUPTION. The hidden corruption is spread across layers of government, [elected and "public service"], POLICE, [Queensland and Federal], the judiciary, legal profession, EDUCATION, UNIVERSITIES and business. It occurs in many dimensions. Much of the corruption is for the "cover-up" of incompetence, and other corruption. Some members of my "family" have gained some "inspiration" from some of this corruption, utilising corruption in the legal profession and judiciary.
The www is the ideal medium to present The EVIDENCE of this corruption when that evidence is documented and the statements of others where those statements are public records. I WILL PUBLISH THE FACTUAL EVIDENCE HERE. My purpose with this site is to assemble that evidence and the logical linkage for the UNCHALLENGABLE CONCLUSION. I have special skills in this respect. I am first and foremost a MATHEMATICIAN with maths majors in my BSc and BA. As well, I am fully trained to be admitted as a lawyer. I have practical experience in many courts over many years and as an accountant and tax agent.
Quick Access

Who is "HAIG"?
HAIG concerns:
Contents/Sitemap SEARCH this site
Opt-In Emails/ SIGN UP.
Contact HAIG
The "Judges are Corrupt" [WorldWide] Network
Tertiary Education in Australia Recycling to save the Earth Water stupidity in Australia.
English as a Second Language for Chinese.
Interests for Chinese People
Coaching/Consulting

Due to FRAUD by St John's College [SJC]

on the St Lucia Campus [SLC] of

The University of Queensland [UQ]


CORRUPTION EXPOSED
fffffff
ggggg
hhhhh

eeeeeee